Throwing a recurring party is certainly rewarding in a lot of ways, but when you're done with one event, you've got to move right on to the next – there's not a ton of time to stop and reflect. To celebrate Shake's fourth anniversary, I interviewed the party's founder, Megan Madara, and its three residents, Dee Diggs, Dev/Null, and Fens, to compile an oral history of sorts of the four years since the series' inception.

---
What was your first involvement in Shake? Why were you drawn to the party or what sparked the idea (if you were a founding member)?
MEGAN: I started Shake back in 2014 while I was working at Good Life, finishing up college, and looking for an opportunity to learn the in's and out's of promoting shows.
Before Shake, my Good Life family (Jeff, Damian, and Peter) put their faith in me and let me start booking their Wednesday nights. During this time, I also got involved with Damian and the BASSIC crew on their dubstep monthly party by helping promote the night and learning about the booking process.
The Wednesday night shows turned into Thursday night "Label Takeover" shows – my label showcase series where I worked with Dance Mania, Tempa, Trouble & Bass, Supply Records, Zakim Records, and Tuba Records – and then into Friday nights.
This model inspired what is now Shake. I really enjoyed curating a unique music experience and lineup – and it seemed like Shake was satisfying the Boston crowd's need for more club and bass music. In addition to interesting headliner combinations, I wanted to make sure I was creating a night that was providing a platform for local artists to be heard and have a crowd to play to.
FENS: Right after I finished school in 2013, I jumped into a pretty busy work schedule that had me working nights and weekends almost exclusively, so I got pulled away from the scene a little, not by choice, for a little around 2013-2014. I had just left my job at the end of 2014 when I saw a listing for Shake!'s second ever party, Girl Unit, Addison Groove, Dev/Null, and Ali Berger.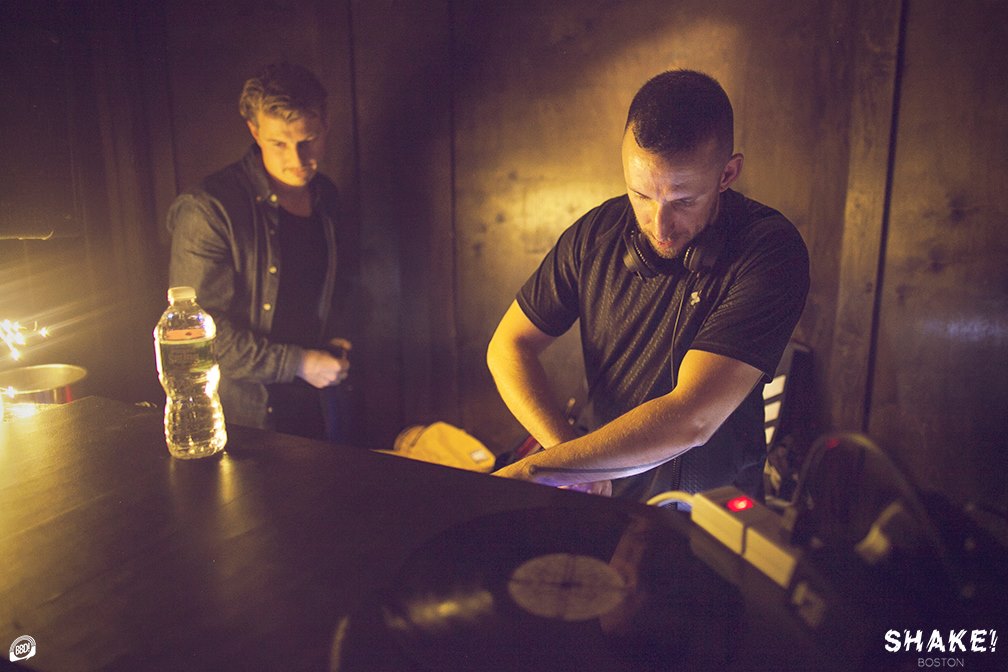 The lineup was too good to miss, and I got to meet Megan, who's been the rock of the party since day 1, and told her to please let me know if I could ever help with the party in anyway. For the first few months, I just helped with promo, and dipping my toes back into the scene again, before coming on as a regular resident.
Good Life had been probably my most frequented venue as a DJ prior to Shake!, from prior involvement with CreateSpaceCollab and Mmmmaven, so being able to get involved with a party at a venue that had always been somewhat of a home to me as a DJ was amazing.
DEE: I came to Shake as a dancer and someone who's genuinely curious & inspired by electronic music. I was attracted by the variety of the lineups. I got to see Todd Terry DJ at the first year anniversary party of Shake in December 2015. It was a transformative night for me. This is maybe a month after I started to DJ out at events & right after I turned 21. I met so many tried & true Boston Underground music heads that night. I found community. It's a beautiful cycle that I am now playing the 4th anniversary party as a resident. A true honor.
PETE: I was involved from the earliest meetings. Megan seemed cool and I appreciated her ideas from the start – it seemed like she didn't want to do a "normal" house/techno night, or a strictly bass music-focused night, but try to do a bit of both plus stuff in between. This was music to my ears (literally).
How has Shake evolved since you first became involved? Whether as a party, or how you see it personally?
PETE: It's hard to say how it has evolved as a whole, because running around dealing with things it's a bit hard to see the forest from the trees, so to speak. Strictly musically speaking, I think the party has gotten a bit more club oriented, while still retaining some focus on house and techno and especially a nice balanced "sweet spot" between those sounds.
MEGAN: Truly Shake is a reflection of the journey of my musical tastes and interests, along with the influence of my amazing resident team. It's my process for how I discover music that I eventually love and want to share with everyone. It's been exciting working with some of Boston's most talented and genuinely wonderful people – Ali Berger (former resident but check out his latest mix here), Dev/Null (Pete), Fens (Matt), and Dee Diggs. I love learning about new types of music from all over the world and bringing something new to Boston. Personally I have been having the best time booking more dancehall, reggaeton, and afrobeats DJs. Simply put, I book what makes me dance.
Our definition of the "club" sound has evolved over the years and now incorporates so many different sounds that all interestingly enough have a common high energy feel. Nothing makes me happier than when a crowd is fully in sync and you can feel that energy like butterflies in your stomach. I strive to create a space that's safe and open for all clubgoers. As a team, we've put a major focus on improving the club environment and experience for everyone. It's always a work in progress, but I believe this has allowed our crowd to become more open minded, respectful, and dedicated. I hope to keep learning and finding better ways to evolve the club experience.
Nothing makes me happier than when a crowd is fully in sync and you can feel that energy like butterflies in your stomach.
FENS: We've always had a focus towards bass oriented and heavier club sounds, really anything at all tangentially related to current club sounds from all genres, and in a way, the party has evolved through exploring all those different pockets of dance music. The programming of the first Shake! parties was a bit more linear in appeal and sound, but as time has passed, I think we've seen the variety of sounds really spread, in a very positive way.
One of our original residents, Ali Berger, moved out to Detroit early in our history, so it was definitely a loss to a still young event, though it speaks to the power of Megan's solid vision, and Pete's (Dev/Null) dedication to seeing the party through. We also saw this as an opportunity to involve friends of ours from outside the party, and try to raise up and feature our favorite local selectors along the way.
In this regard, in 2018 we had a really key addition to our crew with Dee Diggs. She's brought a really great energy to the crew and we're lucky to have someone as hardworking as she's been, not only in Boston, but in scenes from NYC to Montreal, and really digging in. As someone who's been DJing, largely within just Boston, for 10 years, it's genuinely inspiring for me to see when someone comes along with a huge pool of energy and vision to carry the momentum.
All of us, both as DJs and just as listeners, dig into such a wide variety of material that naturally we want to let that curiosity into the club, and there's been a solid foundation of support that has let us try these more unique bookings out.
For me, I've always been consistently surprised and humbled by the way folks have turned up to our parties, we've been very fortunate to have the parties well received in regards to attendance, and I cannot thank everyone enough who's turned up for all the different gigs.
DEE: I'm the newest to the party! I've always really loved the variety of the lineups at SHAKE. It mirrors the way that I listen to music, dig for music, and how I play when I DJ; pulling inspiration from the past, making sonic connections in the present and sustaining curiosity & energy as a way forward to the future. I'm always surprised by the crowd because there's a real variety to the people that come and they come with open ears & open minds usually.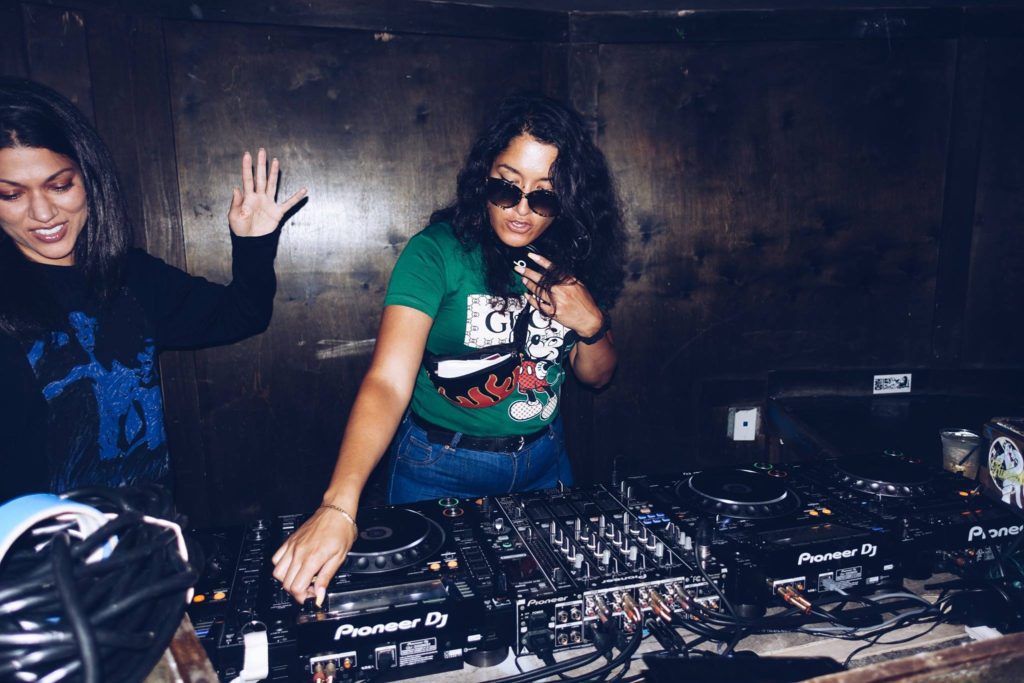 What's an event or series that's been inspirational to you? How has that event or series influenced your concept of what makes a good party?
MEGAN: I love traveling to other cities (i.e. NYC/Brooklyn, Seattle, Chicago, SF) to get a different perspective and see what you like/don't like. I always come back with good booking ideas and things I can try with Shake. I also gain appreciation for really cool venues and spaces (Smart Bar, Villain, Glasslands (rip), Knockdown Center). I'm really inspired by Discwoman and Technofeminism and their mission and event curation, as well as Mixpak's events because they are seriously the most fun. I also have to shout out BASSIC and Make It New as two local events that shaped my idea of what makes a good party. Good music and dark rooms.
FENS: Now more than ever, I've really been asking myself what would truly constitute an "ideal" party, given the changing tides of the broader world, and I don't think I can truly nail that down. Along the way, clubs like Fabric, Berghain, and the like have always set the pace that others try to follow, but obviously there's been a huge shift in dynamics of power and attention away from those places in more recent memory.
The jump from obscurity-to-celebrity-to-worn out seems only milliseconds long these days. Where there has been instability in the bigger "going to a proper club/venue" markets, I think the spirit of the underground and off-the-radar events have been coming back into force to take their place, and due to this, people have been getting more freedom to really test out more comprehensive visions for parties, beyond just a tight line up and a quality system. Audiences are hungrier than ever for something truly special, and we all should be, as time progresses. I've seen thoughtful, thorough executions of great concepts, I've also been struck by the power of just bread and butter basics, like just good DJs drawing a great crowd playing really, damn good tracks, it works.
DEE: I live in Brooklyn now so, I'm surrounded by a pretty big 'class' of DJ peers. I am so inspired by the present moment I've dropped into here. There are so many parties & platforms coming up that are headed by queer or POC (people of color) DJs. That's what this music was founded on! Us taking control of our own culture & therefore, our own future.
There are so many parties & platforms coming up that are headed by queer or POC (people of color) DJs. That's what this music was founded on! Us taking control of our own culture & therefore, our own future.
I've seen a lot of collaboration & sharing of resources, opportunities & gigs. I am someone who loves that aspect of DIY community. The more we share & invest in each other, the better off we all will be.
I pay attention to how intentional hosts & curators are about carrying out the ethos of their events. It's easy to put buzz words on a poster or piece of paper on the door, but how does it feel to be a lone women, a black person or queer person in the middle of the dance floor at your event?
Parties & Platforms that do it well:
PETE: Sorry, so many of these to list because I'm old but there's a LOT of moments that made me go "wow" and changed my views on things:
Toneburst parties in the 90's in Boston. Amazing "anti raves" held at places like the Children's Museum, which perfectly melded more traditional rave music of the time with more challenging styles and showed me that beats for the mind and for the feet are not musically exclusive.
Beat Research – a night run by some Toneburst related people which featured all sorts of amazing music merging dance with experimental.
Subduction – an crew who brought lots of artists to Boston before they were popular or when their style was just on the cusp of acceptability here.
Nu Life – absolutely crucial party and some of my favorite Boston djs/ people.
Elements – as a specialist in ancient jungle music I have HUGE respect for Lenore holding it down all these years and keeping a particular style of music (DNB) represented and alive week-in, week-out regardless of the styles ebb and flow in trendiness.
Pico Picante – still killing it, but I went most frequently the first few years and it always amazed me 1. the unbelievable positive vibe and GREAT crowd 2. what they could get away with playing, simply because of the unbelievable positive vibe and great crowd. People would get swept up in the music and really open themselves to sounds they might be unfamiliar with!! Sara and Ricardo always are amazing, Rizzla's set opening for Venus X there is one of my top 5 sets ever witnessed I think.

What was your favorite Shake memory so far?

DEE: I've had too many transcendental moments at Shake to count or remember one by one. I would say becoming a resident of this party was really special for me. I have party posters with my name next to some of my heroes in the DJ & music game. I've had to push my ear into so many different directions to make sure I'm bring something that will inspire & challenge, as well as set the stage for the headliners.

About 2 years into DJing I kind of stalled a bit because of insecurities. I thought if I didn't commit to being a '1 genre' type of DJ, no one would know where or how to place me on lineups. It was very affirming that my curiosity & versatility is a part of what made this residency a perfect match. My shake debut opening for DJ Tunez sticks out in my memory, as well as opening for Josey Rebelle from Rinse FM in summer 2018. Both times I was inspired to bridge & connect diasporas in my set like those 2 DJs do in their own respective ways.

I thought if I didn't commit to being a '1 genre' type of DJ, no one would know where or how to place me on lineups. It was very affirming that my curiosity & versatility is a part of what made this residency a perfect match.

FENS: The level of quality from all of our guests has been so damn good, the following is a list of the best of the absolute, already best, but definitely a few memorable highlights: literally just meeting Joey Beltram then getting to hear him play, DJ Funk AND Parris Mitchell on the same bill, opening for Bok Bok & L-Vis 1990, the Qween Beat anniversary party, Dre Skull & Jubilee (too many exclusive tracks), Lychee/Loefah/Hodge (I mean), when Champion and Roska came through with MC Serious, and lastly, the one that got me hooked, Girl Unit and Addison Groove, that crowd and night was pretty wild. Really, all of them were insane, go look at the full list of previous parties.

PETE: So many amazing sets but to pick one, it's gotta be DJ Lag. By the time we had him play, GQOM wasn't a TOTALLY unknown style, it had been written about plenty online, but this was the first time a GQOM artist had played here.

I was a bit worried because I'd played some GQOM off and on the previous 4 years at other parties in the city and didn't see that much of a response. Obviously that was just me though, because when DJ Lag played it… wow. You could easily see the crowd's response shift over the course of his set, from "what is this music??" (a bit confused) at the very beginning, to "what IS THIS MUSIC??!?!" (excited/ amazed and absolutely loving it) soon after.

This was all down to Lag's skill – he pulled out all the stops, using catchy DJ tricks and fast mixing to make the music approachable even for someone who'd never heard anything like it before. He was an incredible ambassador for the genre, similar to DJ Rashad (RIP) for footwork, bringing a localized, regional sound to far away audiences which were largely unaware of it, and flawlessly bridging the gap for them / making it impossible for people NOT to love it.

MEGAN: This is so hard! There's so many different categories of memories too.

Nothing will ever top the first Shake ever with Jimmy Edgar and the raw energy that night. I just remember being so starstruck driving him around in my old Volvo wagon. That night was really special for me.

Probably the craziest show would be when we had DJ Funk and Parris Mitchell. Too many shots later…

My favorite memory has to be the Qween Beat anniversary party last year. It was so cool to get so many different DJs and groups together all under one roof and packing both floors! It was an amazing celebration of the LGBTQ, Drag, and Ballroom communities in Boston, NY, and NJ. The funny thing was I had booked UNIIQU3 back in 2014 when we were both just getting started. So it was an extra special reunion to have her back 3 years later. Not to mention, I also love MikeQ and would work with him on any project in a heartbeat, he's the hardest working person out there.

What's a mix, album, track, etc. that's left a mark on you in the last year?

MEGAN: Riobamba's Fact Mix– Sara has been a major inspiration for me – as a DJ, promoter, label owner, and all around badass. Pico Picante was my introduction to Caribbean dance music and where I fell in love with it. This mix is regularly in rotation on Fridays to get me hype for the weekend on my commute home!


FENS: Mina's Fact Mix – Only came out literally a few days ago, but just on time like it was the Oscar Nomination season but for mixes / Album: Sonder Somatic from Bruce / Track: Monster VIP by The Maghreban


PETE: Akua's Discwoman Mix – She killllled it on this, my favorite kind of technostuffs. really inspiring. It sounds like a secret mix from the 90's I'd find in some dark recess of the web and listen to a million times but try not to tell too many people about because I'd want to crib a few of the tracks for my own sets hehe.


DEE: HNYPOT 283: Mike Starr's Makings of a Gemini Mix – I have listened to this mix so many times, since I found it last summer. It feels like coming home & finally being able to breathe into your body. I love how sensual, cosmic and energetic it is. A true treat & delight from this platform that inspires so many DJs from some many queer music scenes all over the world to craft their stories. Whenever I forget the power of subtlety or why I love listening to mixes or making mixes, I tune to this & it raises my vibrations to inspirational levels.


What would be your dream booking for Shake?

FENS: If this is a dream booking, we'd get to take over multiple, public outdoor spaces in the summer, and curate different stages with different genres of stuff we're on. On my short list of people I've never had the opportunity to see ever that I'd book, Ryan Elliot, Nina Kraviz, The Bug, Helena Hauff, Blawan, Octo Octa, and then plenty others still I've seen before that I'd really want to see again, like DVS1, Hodge, Bok Bok, Asmara, Ben UFO.

PETE: Top wants for me: Jerome Hill & Akua. Manara/Ma Nguzu coming back, maybe with Venus to make it even more crazy. DJ Flex. Tayhana. Ceephax Acid Crew. Total Freedom open to close set.

MEGAN: I second all of Pete and Matt's ideas! Some of my dreams include Horse Meat Disco, Spice, David Morales, Ikonika, Blawan, Pariah, Eclair Fifi, and Juls. I would love to bring back the Night Slugs crew and Amy Becker as soon as possible too!

DEE: LSDXOXO, Working Women, D.Tiffany, Lyzza, DJ Firmeza, Englesia & UNITI Affiliates (GANX, Gitana), Akua, Vveiss, AceMo, NK Badtz Maru, Syanide, Moma Ready, Afrodeutsche, Olive T, DJ Occult, Ariel Zetina, S1udent, Jessy Lanza & Lunamariposa

Outside of Shake for your own personal projects, what are you plotting for 2019 as 2018 wraps up?

FENS: I'd like to release original music, anything, finally. I feel like a weakness of mine has been a total inability to stay on a vision long enough to just polish a track, when starting from scratch, by myself. I've always done best as an instrumentalist and particularly coming from a jazz background, I work best collaboratively and just literally jamming stuff out with other people and compositions just come to life. I'm always searching for ways to capturing ideas in that more performative way, while at the same time not dropping money on gear.

So, with any luck, I'm giving that more focus. I feel like I'm at a place where writing can happen. Outside of music, anyone who knows me knows that I spend a shit ton of time riding bikes, so obviously when you spend hundreds of hours a year on a bike, you absorb the importance of consistency when it comes to training, as with anything, so incorporating writing music and staying consistent, is the goal.

DEE: I'm building a life in New York City! The pieces are all coming together before my eyes & I am so grateful. I am reminded by so many people around me that have witnessed me working that it's by no accident. I have earned my place here. So it's lovely to be grounded in that way, when I am in the business of helping people get carried away.

I want to keep playing every & anywhere in 2019! Playing in Chicago at the top of this year was a personal tipping point for me as a house head. I felt renewed after having made a pilgrimage to the homeland of House music. I would love to return.

I want to explore more of the smaller American scenes around the country, as well as hop the pond to Europe for a few dates in the coming year. I'd love to play another festival as well. I am always down for a lil romp up north, so Canada is on the list of places & scenes to explore as well (I've only played in Montreal so far). I'm trying to make sure I can be myself anywhere & everywhere! There is no strange booth for Mizz Diggs. The music brings her home.

I think it's great how I have my foot in so many different scenes being a Boston transplant to NYC/Brooklyn. I want to be the bridge & the instigator to many beautiful collaborative events, so stay tuned for that!

MEGAN: I have lots of ideas and goals for Shake and personally for 2019. Next year I'm hoping to expand Shake into new venues and spaces. I'd love to do another two floor takeover and partner with multiple collectives, labels, and local parties for the mini Boston festival vibe.

Personally, I'm looking forward to traveling more and exploring new places. I'm also planning to do more for the American Foundation for Suicide Prevention Boston Chapter. I walked in their Out of the Darkness walk back in October (big thank you to all that helped and donated!) and it was a powerful experience. Our team raised over $6,000 and I'm hoping to at least raise $10,000 next year and get involved in other prevention initiatives. Mental health awareness is something that's really important to me and something everyone needs to talk about more with each other.


Come celebrate Shake's 4th anniversary with the residents all night long at Good Life on Fri, Dec 7th.