SHYBOI's mission has been to explore and foster culture in the musical, visual and physical worlds. Being part of DISCWOMAN and #KUNQ has not only elevated her career, but influenced her to create new and interesting things. This Friday, she'll join us for Shake! with Noncompliant / DJ Shiva and resident Dee Diggs. In advance of her set, we interviewed her about her video production work, the current political climate, and her involvement with the #KUNQ crew.
---
You work in a wide variety of mediums beyond music – can you describe the main mediums you tend to work in for those who might not be familiar with the breadth of your work?

I work within video, sound, performance and installation.
How did you first start interacting with club culture? Did you know right away that you wanted to be involved in creating for those types of spaces, as someone who seems to have worked more in traditional art spaces first?

I moved to New York as a tween. I was always obsessed with music, underground culture/spaces and the people that interact within these environments. Before I started DJing I'd do visuals for warehouse parties, help design flyers, promo videos and stuff like that. So I've always worked within the more traditional white cube spaces alongside their dirtier and grittier counterparts. It's also helpful that a lot of creative folks dip in and out/find homes within nightlife. A part of me kinda believed the world was going to end in 2011 and I believe that energy was palpable, especially in New York. That influenced my outlook on how seemingly divergent groups could come together and what that could look like.
Do you think the landscape for music and art has changed as a result of the current political climate? What's changed, what's stayed the same?

I'm not sure. There's definitely an influx of weirdly homo-antagonistic art that depicts the 55th president with other male world leaders in a strange attempt to undermine this current administration. The sale of pink yarn spiked for a second as well. Overall the big bucks within the arts tends to come from conservatives and republicans who now have ties to this administration. Melania is a huge collector of art in New York City (& elsewhere), folks on the board for some of the biggest museums here are in cahoots with the current government. I believe folks are trying to be a bit more sincere in their output of work and their energy.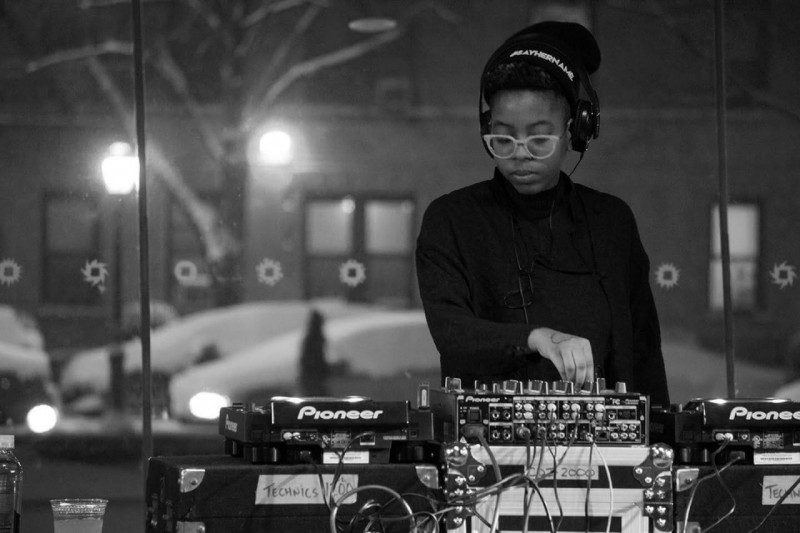 Can you offer a little history of the #KUNQ collective for Bostonians who may not have been around for those parties? How did you first discover them, what about them made you make the trip from New York?

KUNQ formed about seven or eight years ago at this falafel restaurant called ZuZu's back in Cambridge, Massachusetts by Rizzla, Micah Domingo and Battyjack. The music coming out of that environment was immediately magnetic; Dembow edits sprinkled with jumpstyle kicks, R&B fused with happy hardcore. It was just ridiculously fun to find this music while digging around online. I believe I started talking to Rizzla online around 2011 because apart from the music that was coming out of the collective, everyone in the group (which then expanded to include False Witness) had a deep commitment to ethnographical research and a true respect and understanding on how cultures can influence music, without co-opting, bastardizing and then subsequently profiting from it in a harmful way. It was a model I was deeply interested in. I never went to the parties in MA, because they were coming to New York frequently enough. Rizzla was a year long resident of one of the earlier iterations of the GHE20 G0TH1K parties so I'd see them there. Micah and Battyjack were frequent players of Bklyn Boihood events.
What is your process like for putting together an audiovisual piece like #CURRENTMOOD? Does your process of "video appropriation" for something like this feel similar to collecting music for DJing, or are there key differences?

It's all the same process. My idea of fun is research, I enjoy finding out things about people, places and things I might not be able to have steady IRL access to. I live in Bed-Stuy in Brooklyn and when it gets nice out all the bikes come out and play. I love the sound of engines, and I get really giddy when the riders get together throughout the neighborhood. It's an ode to outlaw culture, danger, anxiety and self destructive behaviors because sometimes, those things are fun.
Are there any current or upcoming projects you'd like for us to shout out here?

I'd like to shoutout people who get genuine joy from being nice. I think that's amazing

See SHYBOI with Noncompliant and Dee Diggs at Good Life on Friday, June 1st.
More info here!