Shake! is ramping up to our upcoming event with Lit City Trax on Friday, August 11, with a series of interviews, and in honor of a lineup that features not only a label strongly representative of numerous locales but also a strong group of Boston locals who are shaping the scene, we've decided to put the focus on music tied to places old and new in our series of interviews leading up to the event.

Dee Diggs is a powerful force on the Boston music scene, not only infecting dancefloors with her dreamy techno, but tirelessly working to dismantle oppressive structures, elevate marginalized performers, and create radical underground spaces in a city where doing so can feel like pulling teeth. As part of Evlv Tech, she helped organize a festival that brought femme and non-binary producers to the forefront last July, and it sounds like we'll be hearing from them again soon.
In our interview, she shares some of her musical history, what she looks for in a dancefloor, and speaking for herself.
Photo credit: Georgette Bibber
---
Where did you grow up? How did that shape your sound or the way you relate with music?

I grew up in Columbia, South Carolina. I've had an ear for a tune since I can remember, but I always felt I was far away from the source of the genres I was interested in. So I am 100% cultured & influenced by the internet age. A digger since the beginning.
I began taking voice lessons at 5 years old & participating in a year round children's gospel choir. I did that off and on for most of my formative years. Black gospel music is so expressive & connects people in such a powerful & visceral way. I learned the true reach of music from these experiences.
What is the place you call "home" now? How do you ensure that you're both drawing inspiration and contributing there?

I've been living in Boston about 5 years now. This is where the formative years of my youth took place during college & now working here after, but I'm not sure if spiritually it is my actual 'home' though.
It's my home for now though, I give back through my work with Evlv Tech.
I use that platform to elevate artists & curators who are femme-identified or non-binary & our real allies; those who are allies in action & not just name. I am a big believer of passing opportunities forward. If I can't make a gig I'm offered, you best believe I have like 5 femmes I will offer to a promotor in my place.

What was the first dance music experience that really stuck with you?

I discovered my love of electronic music during my study abroad year in France.
I found this cool bar where I'd go to chill. Once my French got better, I began having all these conversations about house music & techno music & afrobeats with the DJs in this alternative mountain city called Grenoble.
Shoutout to my friend Mike, who runs FullFridge Music out of his bedroom, who told me that my ideas were inspiring & that I should DJ because there should be more women expressing their ideas in that way.
I just dug in really deep into the underground culture there. There is no one experience, it was the whole thing. How people grafted me in & invited me to events they thought I would like & made me feel I could join the conversation.
I went to Nuit Sonores in Lyon at the end of my study abroad year.
They didn't get mad when I would proclaim, 'Don't forget that House music is American music. Made by black people, who looked like me!' They would respond, 'bah, ouais!' (why yes!)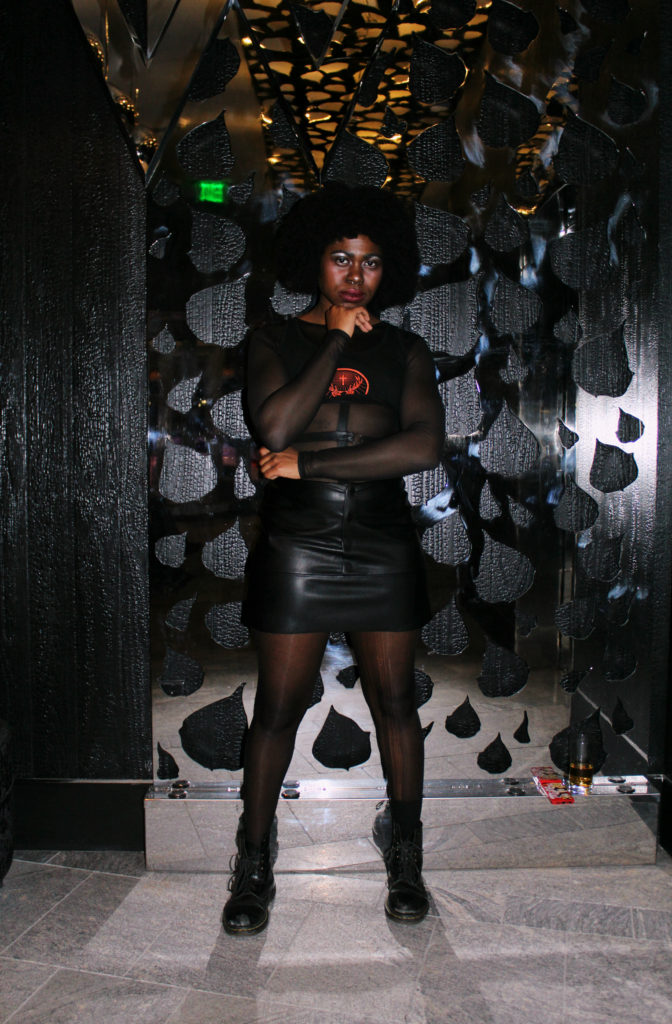 Have you ever traveled specifically to attend a music event? Why do you seek out those experiences?

As a nightlife organizer, DJ, & someone who describes herself as a nightlife enthusiast & 'techno tourist' (meaning I like to explore local music scenes when I travel by attending underground parties & clubs), I notice a lot of things that the average party goer may not, when I go out. I go to New York a lot for parties like Unter & Groovy Groovy. I went to Mutek in Montreal last summer & that was life changing.
I always crave an immersive experience; from the music, to the décor, to how comfortable the dancers feel in a space. I want everyone to feel safe & have the space to find their equilibrium during the night. I want venues to enforce & encourage consensual & respectful behavior in their spaces. Harassment of any kind kills the vibe altogether for me. I go to the club to be inspired, not groped.
Do you have any thoughts on the present struggles of DIY collectives and spaces and how these spaces can continue to exist?

I don't know. I wish I did have an answer for this. I have come to accept that my DIY dreams may be too big & too formless for the rigid bureaucracy that is Boston.
I do still dream & formulate this DIY club utopia in my head: a co-op warehouse space, with a set community ethos/rules & regular programming in the day time & after hours.
I'm planning to pursue a music business degree sometime in the next few years, so I can hopefully make that happen. The underground feeds everything else, it's like the soil beneath us all. All I know is that it always finds a way. That gives me hope.
My advice is KEEP ON, KEEPING ON.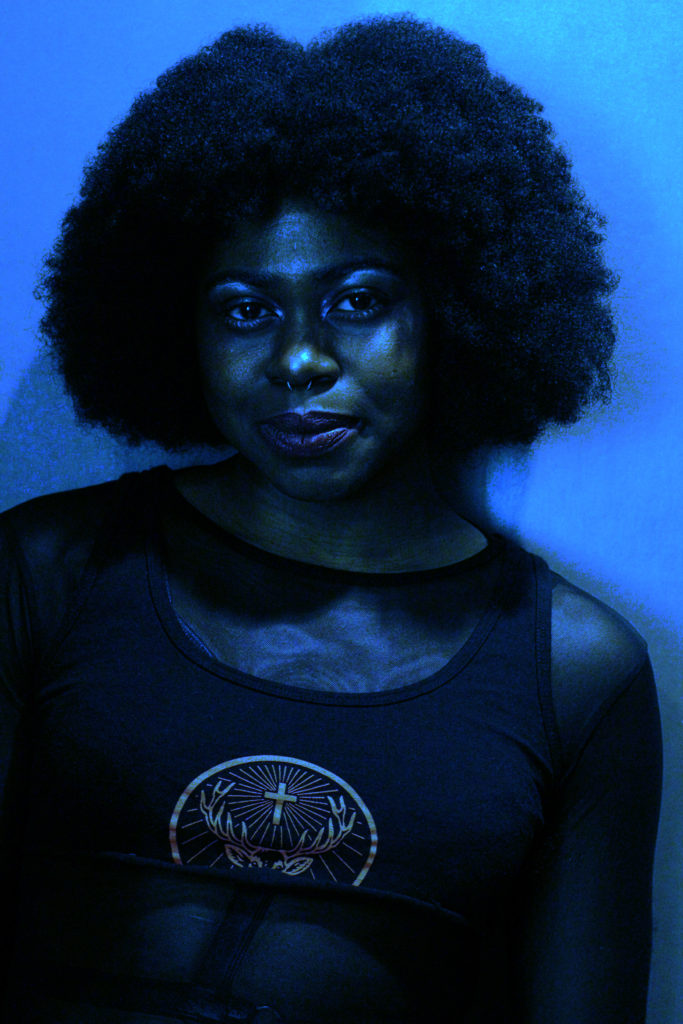 From your own exploration and experiences, what are some places where you think music is thriving locally now?

I'm really into Montreal's scene. I haven't spent that much time there, but from what I saw there is so much freedom to move between establishment & DIY for artists, event curators & performers there. I just discovered their local internet radio, n10.as. I find listening very inspiring. I hope to spend more time there & hopefully, earn the chance to play some up there as well.
How does online communication and social media play into your music/performance practice? Can these tools be used for community building?

I've never been as loose tongue as I am in current times on the internet. I feel empowered right now to speak for myself & about the unjust systems in the politics & music/art industries. I don't care whether I gain or lose social capital from sharing my truth & my experience.
I am always connecting with femme DJs & event curators around the world. We bond over the bullshit that we go through & the thick skin we have to grow to survive. I love connecting with other black femme DJs. We are everywhere & will shortly take over, just wait! It's important for me to have access to my role models, even if it's just a matter of following them on Instagram. I'm thankful to DJ Minx, Juliana Huxtable, Bearcat, Honey Dijon, K-HAND, Josey Rebelle, & so many others who inspire me to stay the course & believe in my damn self!
Can you share some of the thoughts behind your new mix for Shake?

So I made this mix in and for a very playful mood. The first time I saw DJ Deeon was at Trans-Pecos in New York March 2016. There was such a playful, yet captivating tone to his set & the energy in the room matched that. There was someone in a unicorn costume twerking on the stage in front of me. I remember being very stoned & giggling throughout the set. He taught me that the club should be a fun & experimental space & experience.
I tied up those elements of surprise, silliness, & sensuality with my selections. I think this a chill mix to get ready & pregame for the club to. I included a song by my best friends called "Powerball" with vocals by Harocaz & production by Yung DB at the end there because they are too lit for this world.
And to bring it back to you: what projects or events do you have coming up that you'd like to shout out here?

I am working on some really exciting things with Evlv Tech again. So don't count us out! We're ramping back up in a very official & impressive way. Stay tuned for the fundrave event we will throw this fall to support our festival next spring.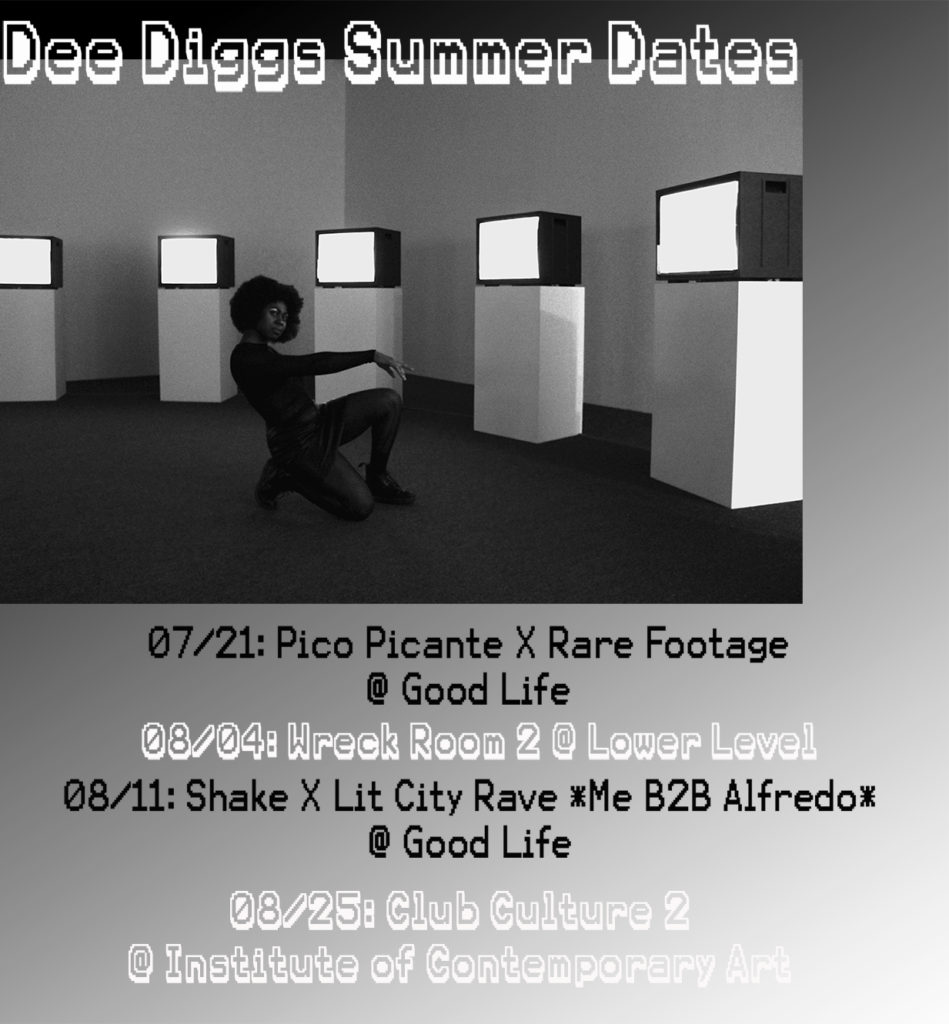 ---

See Dee Diggs b2b with Alfredo at the Lit City Rave alongside DJ Deeon, J-Cush, Blay Vision, and DJ TiGa at Good Life on Friday, August 11th. More info here!