Shake! is ramping up to our upcoming event with Lit City Trax on Friday, August 11, with a series of interviews, and in honor of a lineup that features not only a label strongly representative of numerous locales but also a strong group of Boston locals who are shaping the scene, we've decided to put the focus on music tied to places old and new in our series of interviews leading up to the event.

DJ TiGa has been a driving force behind the Jersey Club sound since its beginnings. From getting his start as a member of the Brick Bandits collective out of Newark, NJ to bringing Jersey Club to a global audience as part of the Lit City Trax label, TiGa's career spans over a decade of cutting edge club sounds. Last year saw the release of the first installment of his mixtape series, The Sound: Vol. 1, with Volume 2 set for release in September 2017.
In his interview below, DJ TiGa talks about the roots of his sound, how it's evolved over the years, and what we can expect at tonight's event – including a preview of some forthcoming The Sound: Vol. 2 material. He also released a Shake mix to go along with his interview, listen here.
---
How have your New Jersey roots shaped your sound or the way you relate with music?

To me, New Jersey has always been beautiful, no matter how the surface might seem on the outside, even from back in the grand-theft days, when Jersey was infamous in the 90's for it's high crime rates, Jersey was a huge factor in shaping my sound and Jersey Club. I loved growing up in Newark. If you were in Newark, you had the access to the music and the lifestyle and could watch and participate in the growth. It was crazy to watch Jersey Club manifest into what it has become today.
Even way back when, when I was a young kid, we had house music playing everywhere in Jersey – mixtapes were rife, the clubs were banging house music, local radio stations played house and the streets liked to dance – this all gave light and color to the Jersey culture. The music kind of gave you moments to escape your troubles. It brought everyone together. You could be broke and go to a block party and be fed by the community. The culture took care of the people. It made it easier to trust people. The good that came from the music, it brought people together. We didn't need to know the person but we always looked out for one another, because the music brought the neighborhood together.
There's a lot of this pretty-ass, polished club music. Really, club can be whatever, emotional and deep or whatever but the music is gritty and hard, so it's not meant to have a glossy finish. Coming from Newark, my experiences musical and otherwise have shaped my sound, point blank. Without these experiences, my music would not be what it is today. I almost wonder if anyone, from any background, can make sincere Jersey Club music. Really, it's Jersey Club influenced music.
What was the first dance music experience that really stuck with you?

I'm not sure. It was the Haitian music, or Carnival in Haiti. As far as Jersey goes, block parties & meeting Tameil when I was 11. Got to chill with Diplo backstage at Mad Decent Block Party in High school.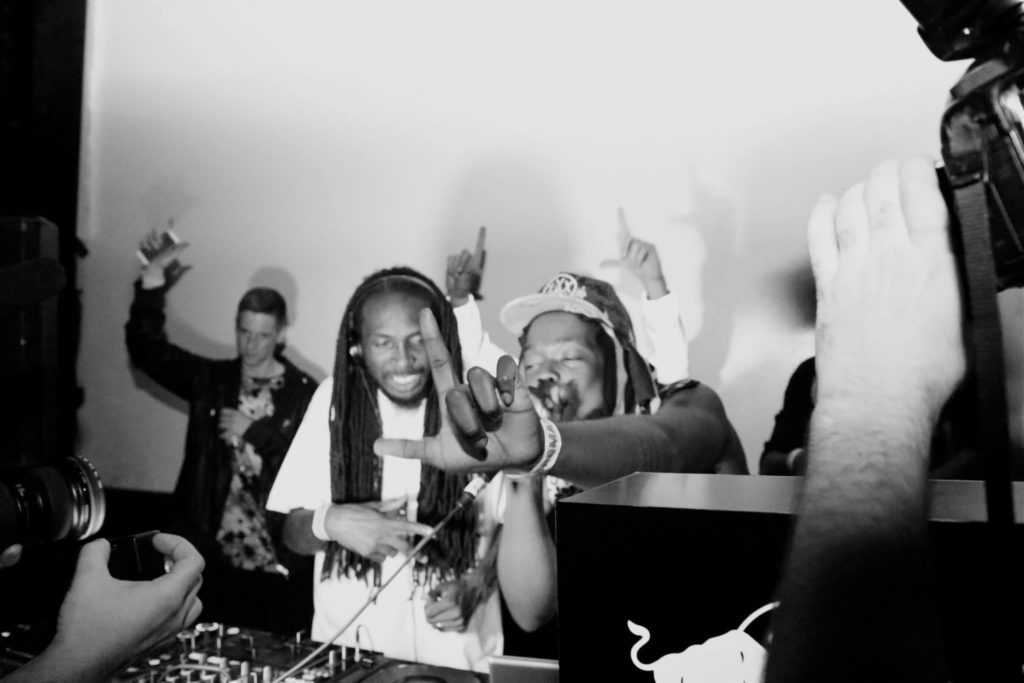 From your own exploration and experiences, what are some places where you think music is thriving locally now?

Apart from Jersey, London, Chicago and Colombia. London has the Grime stuff and I like Zone 2 as far as the UK Drill stuff goes. Met Skepta & Jammer through Cush. That whole sound is raw, just like Jersey. Zone 2 sounds like the next thing to blow out there – it's pretty clear they're gonna do something. They could open up the UK scene in a big way. I fuck with the Ghetto House, Juke and Footwork out of Chicago. The Jersey sound and Chicago sound are linked – it's all just Trax. I like a lot of the Latin-club sounds. Cumbia is dope.
Can you tell us a bit about your next project, "The Sound: Vol.2"?

It's an introduction to my current style of Jersey Club – there's a lot more new shit on here. I'm gonna let the project speak for itself on the night.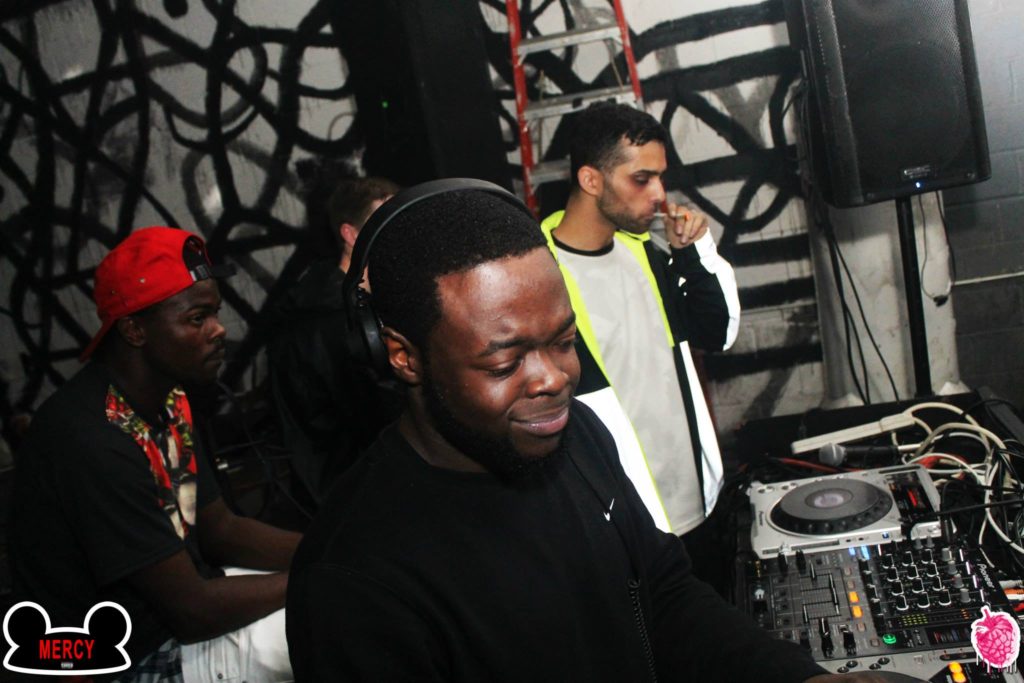 What are some of your dream collaborations?

Kanye West, Scott Storch, Poo Bear, Ayo The Producer, Billy Joel, Pharrell, TM-88 the whole 808 Mafia, Lex Luger, KickRaux, Ryan Hemsworth, Pelican Fly, an original DMX collab. WHAT?! That would be dope. Also Djemba Djemba, Murda Beatz, Future Brown, Giggs, Blay Vision, Zone 2, PNB Rock and Ty Dolla Sign.
I want to collaborate with all the Jersey Club Veterans. Do a whole mixtape.
You're often cited as one of the pioneers of Jersey Club. What are some pivotal tracks you'd include in a "Jersey Club 101" lesson and why?

DJ Jayhood – HeartBroken
DJ Joker – Donkey On My Back
DJ Tim Dolla – Sprint PCS Theme
Black Mic – Amilli
DJ TiGa- Brand New
DJ Fresh – Bout it
These are perfect for explaining the structure and fundamentals, what gives Club tracks their soul. Look up some old tracks. Club needs you to put feeling into it.
Why has the Jersey Club sound grown and evolved so rapidly?

It's that crack BOY! [laughs]. There's no limits with Jersey. You can't say it's only this and that. You can do so much with the sound and it's authentic, intimate, tactile & super dance friendly, another thing it's been around for so long that there's a lot of the cats who try to run with it but can't remake the real shit.
How does online communication and social media play into your music/performance practice? Can these tools be used for community building?

Honestly I'm getting better at the online communication thing. I've had to because I like to build a friendship beyond music. Before, my DMs consisted mostly of messages like "Can I get tracks?" or "Send me a zip!" then once I would send shit to people, you never hear back from cats. When you have a friendship with someone, you're going to communicate. I would happen to be in some of these guys town, and would try to go out to support their event and I wouldn't hear back, until I drop another gem and people wanted something from me. It's more genuine when you develop a real connection and have a relationship with someone. What I do now is lock in numbers and text my main friends regularly, push a few tweets to support my brothers and sisters.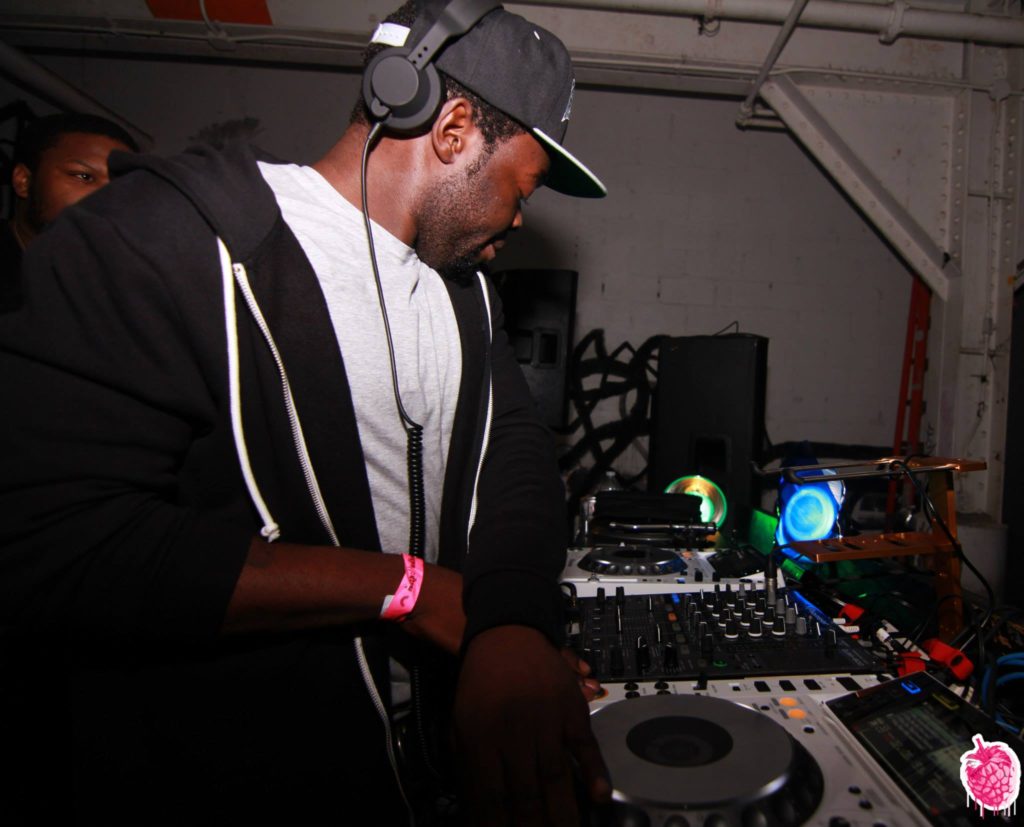 Can you share any tracks or mixes that really bring you back to a place or are somehow connected to a specific time or locale?

Actually, last month I received a folder of my circa 07-08 jams which made me hyped because I could hear a lot of concepts and samples that us Brick Bandits pioneered which gave birth to the original club kit that was circulating. Now, everyone has this CLUB KIT 2.0 with the fresh breaks & the old breaks DjFresh and Myself created back when we traded sounds or sampled from each other. Then JayHood and Sliink's sounds were added someone even sampled a kick by me and called it "BassTiGa" in one Jersey Club Kit I saw.
What do you you have in store for your Boston set?

Lots of energy – I'm gonna play a lot of stuff of my next project "The Sound: Vol.2" plus lots of stuff from my homies, and the Lit City Trax gang.
What projects or events do you have coming up that you'd like to shout out here?

Nadus and I have some things in the works. I'm trying to put Vol.3 together, look out for Vol.2 in September. I'll be in NYC on the 12th for Lit City Rave @ H0L0 the night after the Shake jam in Boston.
---

See DJ TiGa at the Lit City Rave alongside DJ Deeon, J-Cush, and Blay Vision at Good Life on Friday, August 11th. More info here!