This weekend, Shake! plays host to Mixpak founder Dre Skull and longtime collaborator Jubilee, who recently released her first LP, After Hours, on the label. After cutting her nightlife teeth in Miami, Jubilee brought her genre-diverse, tropical-tinged sound to New York and beyond, heating up countless dancefloors. It's hard to find a DJ who doesn't hold Jubilee in fond regard. Even as she takes DJing seriously and rightfully sorts her shifts behind the decks as work, she doesn't seem to forget to have fun, and it shows in her performances.

We chatted with Jubilee in advance of her set about how she prepares for her sets, what she likes to do during her time off, how to find escapism, fun, and meaningful relationships in music as a working DJ, and some of her impressions of Boston from previous visits.

---
After Hours is devoted to the time spent away from the club, but oriented around nightlife. What are some of your favorite non-club moments?

It's devoted to all times. Some of it is in the club… some of it is late night/early morning, and some of it is driving. My favorite non-club moments are being active, whether in a gym or outside, being near water, spending time with my friends and loved ones, and lately I have been beginning to do some VERY basic cooking. I am pretty chill when I am not working because when I am working shit is INSANE.
How do you prepare yourself for a club night? Does that change depending on whether you're DJing or not?

Yeah totally. When I am not DJing, I am usually at dinner or just hanging out with friends. When working, I prepare by taking a bath usually, and doing a sheet mask, just because it makes me feel cute. Every time I take a nap, it really backfires, so I try not to do that anymore. Just makes me extra tired. And I always go through music obviously…
I've heard a lot of my "nightlife" friends complain that they have a lot of shallow connections, but struggle to build deeper communities. Do you have any suggestions for taking those club connections beyond a club space, whether to find friends or collaborators?

I mean, it's nightlife… shit is shallow. It's based on partying, so people are liars, flaky, irresponsible, and shady. There is no dodging that. I am lucky enough to have a cute group of dance music friends, but I can't say I get too deep into the community. I would rather just hang out with my real friends and see party people that I don't get too deep with at night. My advice is when you meet someone you get a good feeling about, meet with them OUTSIDE of nightlife, because that's really how you know.
Also, only mess with people that LOVE music. If they seem like they have other motives, then you gotta ask what kind of community they want. Or if they even want one at all.
That being said, I have managed to become a part of some BEAUTIFUL friendships with some wonderful people all over the world, and we are all each other's support system via text/DM/email. I wish we all lived in a mansion somewhere together and didn't live so far.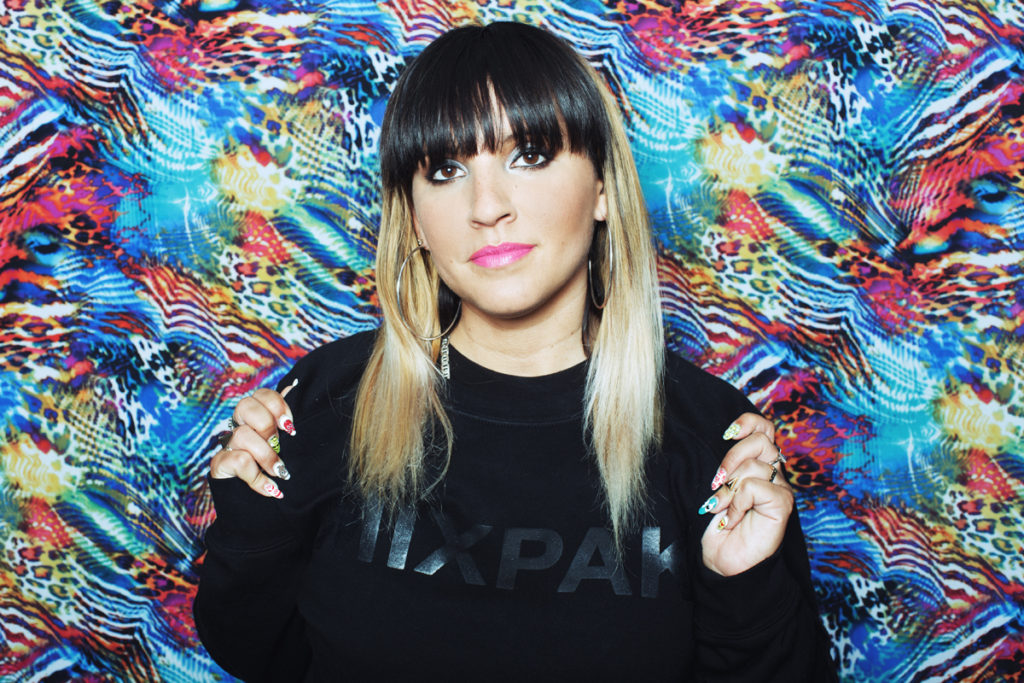 Do you view the club as a place to escape?

Well, kind of. Now it's become a part of work. People are always trying to build and talk about biz stuff. So I usually have to just go in the middle of the floor and ignore all things. And when I am able to do that, it's the best. I feel like I am escaping when I am DJing and REALLY in it. And when I am listening to music and walking around New York City. Also, when I am in a club or at a festival in a faraway land where I know no one and I can get lost in some weird world. Also, a great escape is when there is the perfect group of friends in the perfect dance circle together with the perfect music playing.
How does your time spent in clubs, and on music generally, connect with your overall reality?

I feel like all of my reality went out the window a long time ago…
You've spent a decent amount of time in Boston, and this is an interview for a Boston-based night, so… any memories you'd like to share?

Oh man, I will never forget playing Pico Picante for the first time with Venus X. It was such a vibe and so magical and I felt great for a week afterwards. I always have a good time in Boston.
How has Boston shifted from your perspective, not being too deeply embedded in the music scene here?

Boston is funny, because there are so many great schools there and everyone is really intelligent and socially conscious BUT also can really party like crazy too. For a place that has so many rules when it comes to nightlife people, know how to make the best of it. It has been home to legends like LIL INTERNET, Pete Devnull, Rizzla, Riobamba, Volvox, and many more. Heartthrob was one of the greatest parties in the US when it was running, and you guys have a legit independent production school started by people that just LOVE music, Mmmmaven. So there's a lot to love about it here, and a lot has happened since I first came here. All of the ravers made a legit life and living out of it.
What are you exploring in your DJing lately? Has producing an album changed your approach to performance at all?

I feel like I produce based on my DJing. I build tracks that I would want to play in the club. So yeah, it definitely worked with my approach. I am trying to take more risks in DJing and also I like a lot of TOTALLY different kinds of stuff, so I find it a difficult but fun challenge to try and make it all make sense together.
What can we expect from you and Dre Skull this weekend?

ANYTHING CAN HAPPEN
---

See Jubilee alongside Dre Skull and resident Dev/Null LIVE at Good Life on Friday, May 5th. More info here!